About DHN
Looking into 2018… we are making many changes to our format including more Events, more Interactions and more collaborative activities.
New material

We've spent some time adding new material and new ideas to our website – not only as regards material referred to in this email but also generally. http://www.DevonshireHouseNetwork.co.uk

More events planned for 2018

Our plans are to deliver around twenty Events in 2018  – and to support this process by making  a number of structural and procedural  changes to the way we have done things before.  To see details about our nine core Speaker Events, go to www.DevonshireHouseNetwork.co.uk and click on "Upcoming" – top right.  The last three Speaker Events of 2018 are not yet agreed but we think we know who they are likely to be from the list published on the webpage.  The two unidentified politicians are senior and recognisable to most of us – positive signs so far – subject to availability – but – who knows – we've had senior politicians before and, if they commit,  it's worked out well for us. http://www.devonshirehousenetwork.co.uk/next-dhn-dinner/

Summer debate planned for July

We also plan to have a Summer Debate in the first part of July (initial plans set out on the website).

Alumni lunch in November

The Alumni Lunch is scheduled to take place in November, as last year.  (Numbers getting smaller every year!). http://www.devonshirehousenetwork.co.uk/dh-alumni/

Director Forums

We also plan to have a number of Director Forums – described on the website – designed to be concentrated two hour sessions – 4.30pm to 6.30pm – on a specific topic, generally seen as sensitive or tricky. http://www.devonshirehousenetwork.co.uk/dhn-director-forums/

Membership Scheme

We are re-introducing the Membership Scheme – revised from that adopted by the old Devonshire House Management Club. Details on our website. Specific arrangements may vary to suit circumstances. http://www.devonshirehousenetwork.co.uk/membership/

Sponsorship model: Friends, Partners & Sponsors

We are also changing our Sponsorship model – away from an over-arching arrangement towards a specific Event basis – and have now renamed it Friends, Partners & Sponsors – to reflect a very flexible approach.  We have drawn up a statement that sets out how this might work but, frankly, every deal will be different – although inviting the Sponsor to deliver the venue and the food will be, broadly, a common feature in all the arrangements.  Reflecting just a part of the flexibility in the arrangements is how we managed the Lord Browne Event on 28.11.17 – when Ian Joseph was the "Interviewer".  By all accounts, that worked very well. http://www.devonshirehousenetwork.co.uk/our-partners/
We think that what is now being put in place should be an even more attractive proposition – to all our Stakeholders – and in different ways – whether it is all or any of these:-
Sponsoring one or more specific core Speaker Events.
Hosting one or more Director Forum Events.
Becoming a Member – either Free Basic Membership or Premium Membership or Corporate Membership.
…or anyone simply enjoying a broad range of high-level talks and Q&A in the company of senior decision makers looking for new insights and new contacts.  We are very proud of our long list of influential national leaders who have spoken to us at Devonshire House – and our mission is to continue at this privileged level.
We are always looking for new ideas for Events around topics that might appeal and where we think we can get the right sort and number of attendees.
We look forward to welcoming you to Devonshire House in 2018!
 DHN Managing Director, Charles Russam, heads up the Management Committee
I joined the Devonshire House Management Club in 1995. The company, which I founded, Russam GMS Ltd, was a Gold Sponsor for a few years and I was a Director of DHMC for about five years. When the need for change became imperative, we said we'd like to explore ways of building on what we saw as the immense inheritance of the Devonshire House Management Club. We talked about it a lot and were pleased to receive comments from a wide range of Members who felt the same. Devonshire House Network is what emerged from those extensive discussions.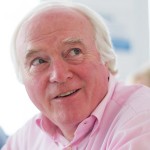 As Devonshire House moves forward – and new ideas and energies around our purpose arise – we look forward to welcoming new members and, in particular, invited guests who are interested in finding out more about Devonshire House and sharing our quest for top level insights into how organisations work – and, in particular – the roles of those who make organisations work.
Looking back over the past year, the main reason for Director-level Professionals to come to our Dinner Events has been the high profile and sharp relevance of our Speakers.  This is a Devonshire House tradition that we obsess about maintaining and building upon.   But what we find is that those who have been to just one of our Events are impressed with the overall "formula".  It's all to do with the easy and friendly ambiance, the venue, the people we sit them next to, the insights they gain both from the Speaker and from their conversations with Members – and the way they feel as they leave to go home.  Whilst everyone who comes to Devonshire House is open for business, being spotted selling is seen as bad manners!  This neat little one-liner has proved reassuring, slightly amusing and seems to work for everyone!  Devonshire House people go home with ideas, information and new insights – and wanting more.
Nicki Lawrence is Development Director for DHN.
A senior HR Practitioner, Nicki Lawrence has been Head of HR, Head of Resourcing and has had specialist  Reward and Business Transformation roles in mainly large organisations and mostly in the financial services sector. She is a Chartered Member of the CIPD, and a member of the IIM (Institute of Interim Managers), London HR Connection and the City HR Association. She also runs her own Human Resources consultancy, having operated as both an Interim and in-house HR professional.
Nicki's focus in Devonshire House is on running the new and exciting Director Forum initiative and as well as the strategic development of Devonshire House – including the broadening of its senior Director membership base.