Russam GMS is proud to be a Partner Firm of Devonshire House.
Jason Atkinson
Managing Director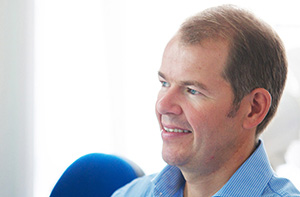 Ian Joseph
Managing Director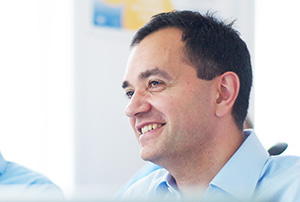 About Russam GMS
Established in 1981, Russam GMS is the UK's longest established Interim Management provider and a leading Executive Search business. We exist to provide innovative talent solutions for our clients; identifying experienced people to deliver results and help transform their organisations. Our values underpin everything that we do; we are reliable, innovative, open and trustworthy and we have a culture based on our collaborative style, pioneering spirit and sense of family which we extend to our clients, candidates and colleagues.
At Russam GMS we pride ourselves on being one of the most networked talent firms in the UK. We are also a founding member of a global group of 16 firms with 36 international offices, we hold the ISO 9001:2000 Quality System Standard and we have rigorous operating procedures – "The Russam Way" – that guarantees quality of service and excellence at all stages of our processes. Because of this, we have forged long-lasting client relationships that range from leading commercial organisations across the private sector to central government departments and local government, NHS and not-for-profit organisations.
Russam GMS is now a multi-faceted group with six key divisions:
Interim Management
Thanks to our long history, Russam GMS has the strongest relationships with board and senior level interim executives of any UK Interim Management provider – as well as having deep and extensive connections with other types of independent executives such as consultants and advisors.  As the UK's first provider, we are recognised with having invented the UK Interim Management market and are credited with being the longest trading interim firm in the world. As befits an organisation of this longevity, we are a founding member of our voluntary governing body; the Interim Management Association (IMA).
Our reach in terms of talent helps us to cover a wide range of professional disciplines and specialisms up to and including board director level.
Executive Search
Our search and resourcing division is the preferred and trusted supplier to a number of well-known organisations, for their most important human capital needs. We advise our clients on recruiting hiring and retaining outstanding and impactful leaders at Board level, including the entire C-suite and NEDs, through to senior level executives across all sectors, disciplines and geographical markets, delivering key executive talent to new, transitioning and established organisations. This broad and extensive network enables us to identify the best candidates wherever they are.
As part of our constant innovation, we have introduced our new Assimilation Coaching Programme (ACP) to assist newly appointed permanent executives from their first 100 days up to 12 months and by providing performance coaching support. ACP is now included for all executive search assignments and effectively underwrites agreed performance guarantees.
WIL Group
Russam GMS is a founding member of the Worldwide Interim Leadership (WIL) Group; an international network of 16 market leading Interim Management firms with offices in 36 countries across all six inhabited continents. WIL Group offers a single destination for global clients who require interim and transformation executives from every sector and of every discipline, anywhere in the world.  With over 400 concurrent international assignments, and a talent pool of nearly 40,000 candidates, WIL Group is the largest global group of its kind.
NEDgroup
Established in 2005, NEDgroup has created a community of Non-Executive Directors (NEDs), aspiring NEDs and people who hire NEDs.  Working with the 2,000 mid and small cap companies outside the FTSE 250; including AIM and many fast growth private companies, regular meetings and debates explore the current issues in the NED market and provide an opportunity to exchange information and ideas. Our flagship annual thought-leadership publication BOARDtalk provides key insights for business leaders.
Trustees Unlimited
Established in 2009, Trustees Unlimited is a leading UK provider of Trustee and Non-Executive recruitment services in the not for profit sector. Whether a Trustee for a charity, NED for a social enterprise or co-opted member to sit on an audit committee, Trustees Unlimited has unprecedented access to a large group of high calibre professionals who are actively looking for such roles.
Step on Board
Step on Board is a board-level volunteering programme which offers an unparalleled opportunity for future and existing C-Level executives to gain board experience by each joining the leadership team of a charity, helping them develop key skills such as negotiation, strategic development, leadership and teamwork. Working with several law and financial services institutions, Step on Board is leading the way in senior volunteering.
Russam GMS have been a proud and active partner to Devonshire House for over 20 years.
Russam GMS Limited
The Gridiron Building
One Pancras Square
London
N1C 4AG
020 7099 2222
hq@russam-gms.co.uk
Registered and Admin Office
Russam GMS Limited
19 Eleanor's Cross
Dunstable
LU6 1SU
UK
01582 666970
[/one_half_last]
Russam GMS Limited
The Gridiron Building, One Pacras Square, London, N1C 4AG, 0845 658 1717, hq@russam-gms.co.uk, www.russam-gms.co.uk