DHN Elbow Room Events are dedicated personal networking events seeking to replicate the style and personal interactions of physical events.
23.06.21 – DHN Elbow Room Networking (Lunchtime Event)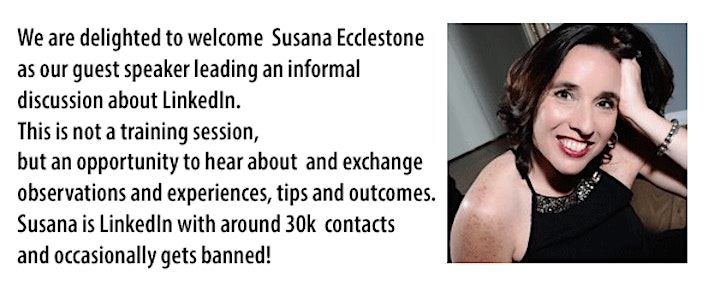 In real life, Susana's day-job is Executive Director of the British Argentine Chamber of Commerce. She is responsible for promoting and creating business opportunities for members of the Chamber and building relationships and partnerships with organisations that foster and promote trade, integration, exports and imports between the UK and Argentina. One of her observations is that, in some ways, Covid has been good for serious LinkedIn users!
Meeting Agenda
12.30pm – Welcome and Intro from Devonshire House
12.40pm – Guest Speaker
12.55pm – Breakout Rooms (25 mins)
1.20pm – Feedback and discussion
1.30 – 1.45pm – Close
Devonshire House Elbow Room Networking Events provide the opportunity for you to meet new people and catch up with people you may have met before. They seek to replicate the style and feel of actual physical face to face networking events.
This should be your purpose in joining us – with the added attraction of finding out more about LinkedIn.  Afterwards you should join our LinkedIn Group – your invitation follows this Event
 Please note that this zoom Event will be recorded – except the breakout rooms.  An edited version will be available afterwards.
 For some people, walking into a  crowded room and finding someone to talk with can be a daunting experience.  And seeing yourself as one face amongst many on a screen might seem a bit the same!  Rubbish!  Forget it! We've got Group Leaders to manage that process for you.  Your prize will be new people to keep in touch with.  None of us know where the next break is coming from.  Give it a chance!

About Devonshire House
Devonshire House is a people-focused membership club for Director-level professionals in leadership roles who have an instinctive focus on the human side of enterprise. Our purpose is to create, for our members, thinking time and space for key business issues and where people make the difference. At the heart of Devonshire House are senior decision makers keen to discover and explore original thinking and information generated from all the Events we promote. Delivered primarily through our broad range of high-level Speaker Events, Forums, Panel Debates/ Discussions, Information dissemination and peer-to-peer networking, our Members and Members' guests discover more about organisations and how the effectiveness of their people can be nurtured and grown. Please see – www.DevonshireHouseNetwork.co.uk