Elbow Room Networking
Devonshire House Network –Elbow Room Events – (7.11.20)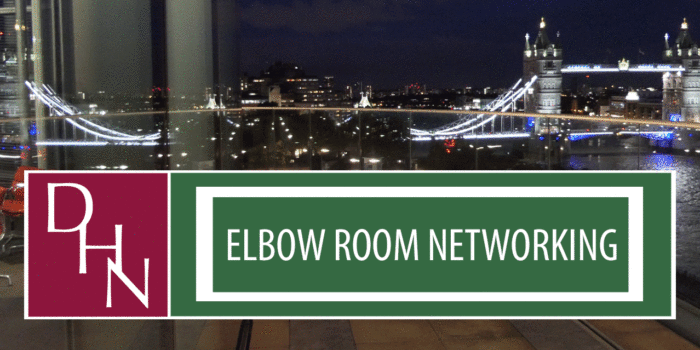 Elbow Room Networking – from Devonshire House – are dedicated personal networking events.  They provide the opportunity for you to meet new people through Devonshire House as well as catch up with people you may have met before at Devonshire House.  They seek to replicate the style and feel of actual physical face to face networking events.
Networking has been at the heart of the Devonshire House offering since its original founding in 1967.  Our purpose is to create for our members thinking time and space for key business issues, and where people make the difference. Delivered primarily through our broad range of high-level Speaker Events, Panel Debates and Special Events, we have extended our offering to include a direct Networking facility – our online Elbow Room Networking.  At the heart of Devonshire House are senior decision makers keen to discover and explore original thinking and information generated from all the Events we promote.
How do we define Networking?  It means creating, activating and nurturing the fullest range of human interactions to promote mutual best interests. But current upheavals – driven by Covid-19, Technology, Brexit and personal and corporate evolving aspirations are revolutionising the whole concept of Networking. Please see Re-discovering Networking for a more detailed analysis.  The element that many say is missing through screen based "contacts" is the human interaction. Elbow Room Events seeks to overcome this by creating a different online networking Event – we try to get as near as possible to the face to face experience of pre-Covid days.
Main purpose of Elbow Room Networking
The main purpose is to meet the others in your Breakout Groups – find out who they are and what they do – and ensure that the others have your own contact details.  Unless you specifically ask us not to, we will circularise all these names and contact details to others in your Breakout Group after the Event.  We will also place these details in a dedicated LinkedIn Special group to which you will all have access. We will maintain this LinkedIn Group and arrange – subject to the will of the Group – zoom meetings.  Our expectation is that this will certainly happen once – but the Group may be happy to focus on individual networking after securing individual contact details – and also re-join another Devonshire House Elbow Room Event – and go through the process again.
Meeting Agenda
We will publish a single item Agenda.  This will be introduced by the Facilitator/Host and is designed to be a thread running through the Event around which delegates can talk and interact with those in their Breakout Group, the over-riding aim of which is Networking.
Facilitator/ Host and Breakout Rooms
Each Elbow Room Networking session will have a Facilitator/ Host to provide insight into a particular topic and to guide and stimulate the conversation. They will then allocate random breakout groups through zoom – ask each group to choose a group Spokesperson to guide the allocation of time to individuals and to agree a brief report-back commentary on the single-item Agenda.
Programme
The Event will last for 60 minutes -5 minutes for the Facilitator/ Host to set the scene and announce the single item Agenda; 20 minutes for Breakout-One; 10 minutes for the feedback; 20 minutes for Breakout-Two and 5 minutes for final comments from the Facilitator/ Host. Each delegate should "meet" ten other delegates.  This pacey Agenda calls for discipline and good humour to get through this concentrated timetable in 60 minutes.
Cost
The cost per delegate for this Online Zoom Event is £25 + VAT, payable through Eventbrite on registration.  Please note that this – and ALL Devonshire House online Events – are free to Premium and Individual Devonshire House Members. Please read about Devonshire House Membership here.  Join now – to make this important personal experience – and ones to follow – FREE!
After the Event
We will facilitate the sharing of contact details within the LinkedIn Group with those who have elected to join it through a Devonshire House Elbow Room Networking Group so people can carry on keeping in touch – and, maybe, arranging to meet as and when possible.