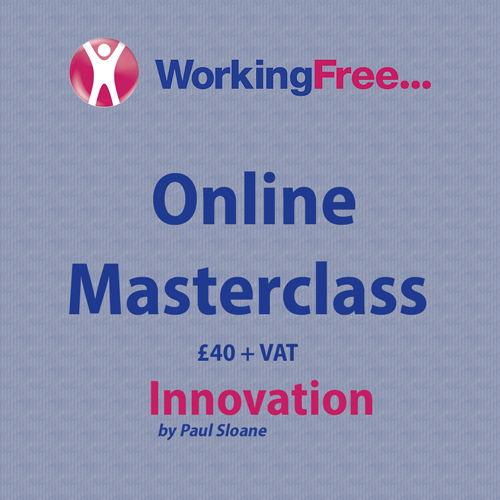 27.05.20 – 2 Hour Online Masterclass – Innovation by Paul Sloane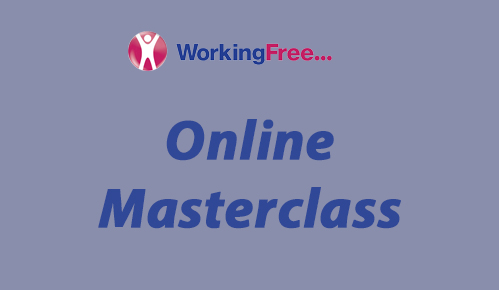 27 May 2020
10.00 am – 12.00 pm
2 Hour Online Masterclass – Innovation by Paul Sloane
Leading Innovation to Survive and Thrive Master Class
In the current crisis the ability to survive is essential.  But what happens after that?  How can you exploit the challenges and opportunities which the sea-change in the economy will bring?  Executives who can use creative methods to identify and take advantage of business opportunities will be highly valuable.  Skills in innovation and entrepreneurialism will be in demand.
This Innovation Masterclass follows the free Innovation Webinar held on 13.5.20.  It goes into more detail and provides a greater wealth of tips, techniques and guidance.  It will give you the foundations for being a leader of innovation and the confidence to lead change initiatives.
It is worth repeating some of the content from the Innovation Webinar introduction:-
The ability to lead innovation is a key skill for senior executives and for those ambitious to reach senior positions.  It is also essential for consultants and interim mangers involved in change programmes. This Webinar will help you to develop an Innovation Mindset, enable you to become a much more creative and innovative practitioner in whatever you choose to do.  It teaches you to extend your creative horizons, to inspire your team and to make better decisions.
We are delighted to welcome Paul Sloane as Working Free's Partner on Innovation.
Paul Sloane says:-
"Today, innovation is a critical item on the senior executive agenda in every organization – large or small, public or private. The pace of change, competitive pressures and technology advances all mean that just doing a good job with the current business model is not enough. To survive and prosper companies have to continually find new and better ways to deliver the products and service that their customers want. It is vital that you are up to date with the trends and techniques involved in leading innovation."
The objective of this Innovation Masterclass is to revisit in more detail the principles, processes and context of why Innovation is all about helping businesses thrive – or, if necessary, survive  – through having, developing and using an innovation mindset.  It focusses on leadership issues and starting on the road to building a creative culture and an agile organisation.
Two hours will enable you to explore the potential of the various approaches and techniques and learnings developed by the widely acclaimed Paul Sloane.  You can read more at – www.workingfree.co.uk/innovation/
The objective of this Innovation Masterclass is to take you further into the principles, techniques and processes that will overlay the way you manage your business or advise others how best to run theirs.
These are the key parts of this Masterclass:-
Building a Culture of Creativity and Enterprise
Recap on Leadership Precepts
Give Everyone two jobs.
Overcoming complacency and aversion to risk.
Overcoming Silos
Learning from Failure
Praising success
Building trust.
The Motto of the Innovative Leader
Implementing Processes for Innovation
Allocating time and resources
Innovation Incubators
Suggestions schemes and packages
Streamline approval processes
Key Metrics
Generating Ideas
Analyse the Problem
Asking the right questions
Allow line manager bypass
Brainstorms – idea generation
Brainstorms – idea selection
Be careful how you reject
Looking Outside – Open Innovation and Crowdsourcing
Bring in an unrelated expert
Study the customer
Open Innovation
Metrics for OI
Crowdsourcing
Summary
The 8 key stages to Lead Innovation
Innovation teams
Key considerations
Summary and Key Tips
About Paul Sloane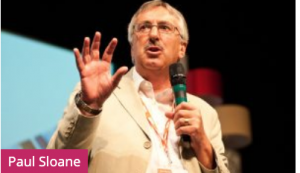 Paul Sloane gained a first class degree in Engineering from Cambridge University. He came top of Sales School at IBM. He went on to become a Marketing Director, Managing Director and CEO of software companies. He has written over 20 books which have sold over 2 million copies in total. His most popular book is Lateral Thinking Puzzlers which has sold over 300,000 copies and been translated into many languages. His top business book is The Leader's Guide to Lateral Thinking Skills. He runs leadership master classes on lateral thinking and innovation with top corporations around the world. He has been a visiting lecturer at Cambridge University, Lancaster University, Henley Business School and the Mumbai Institute of Technology. His Tedx talk is available on Youtube.  It is entitled 'Are your Open-Minded?'
Footnote:  This Masterclass will also appeal to senior Corporate Directors of whatever professional discipline looking at the unknown challenges and dangers of the coming  months and reflecting on what they need to be and to do for their organisations to succeed – yet alone survive.  You might find it helpful to read this  – www.workingfree.co.uk/our-clients/
About Working Free

Working Free Ltd- www.WorkingFree.co.uk –  is a specialist career advisory business supporting senior Director-level executives coming off the permanent payroll into an independent working lifestyle. Working Free coaches them from dependency into independency – for their own future; for the enlightened reputation of their sponsoring organisations and – increasingly – for the benefit of the community. Reflecting the level at which we operate, these senior executives will be in their 50s but with many in their 40s.
Working Free has a broad range of modular Workshops all aimed at senior people looking to now operate on an independent basis.  We divide our services between Corporates through our Pathfinder Programme and Individuals through the same material but with more bespoke admin arrangements. Webinar delivery is becoming more popular now and we are all geared up for that.  All our Programmes are designed to fit in with the Working Free website.  Our preference is to deliver everything face to face – seeing the personal interactions as part of the leaning and networking process – but we are happy to configure to suit, particularly through our Threshold Webinar and Workshops Programme
About Devonshire House


Established about forty years ago, Devonshire House – www.DevonshireHouseNetwork.co.uk – is a people-focused membership club for Director-level professionals in leadership roles who have an instinctive focus on the human side of Enterprise.  Their aim is to create for their members thinking time and space for key business issues, and where people make the difference.  Devonshire House runs about ten main Events each year – a mix of formal dinners, buffets, Directors Forums, Panel Debates, Panel Discussions – and some other specialist one-offs.
At Devonshire House, the Events we promote always aim to reflect the best of current management thinking and – at our best – at issues that need a good airing – some serious exposure – and some animated debate!  All of this collaboration gets us closer to some fascinating organisations and people………………… such as Working Free.
5th May 2020
10.00 am - 12:15 pm